Save souls, save the country?
Lose souls, lose the country?
Welcome to the home page of Athanatos Christian Ministries, an organization that has been defending the Christian faith since its founding by Executive Director, Dr. Anthony Horvath, in 2008.
What we do at ACM may seem to have little connection with the great problems facing our country, but the connection is not only real, it is fundamental. Consider this chart: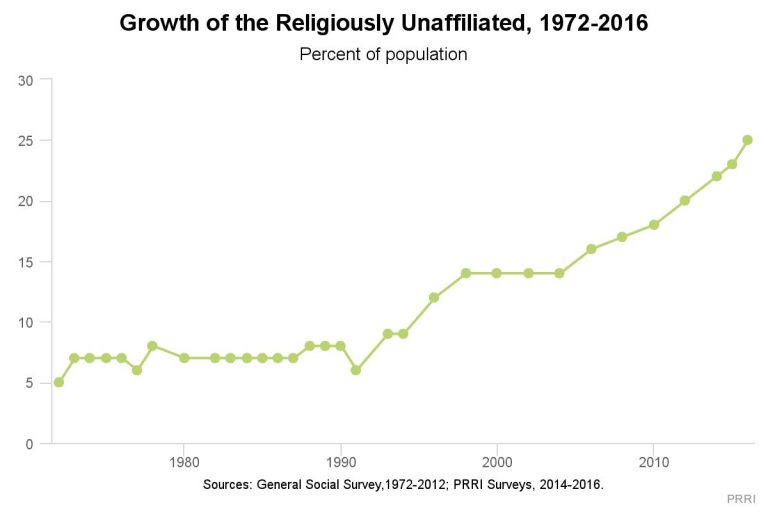 The chart shows a staggering and sustained increase in the percentage of Americans claiming they no longer have a religious affiliation. Almost 30,000,000 new non-Christians in just thirty years! Why should this concern us? Look at this chart:
It may take a moment to think through what you're looking at, but the implications are clear: those without religious affiliation are predominantly liberal. Here is worse news: the number of religiously unaffiliated is skyrocketing right before our eyes!
Athanatos Christian Ministries is focused on saving souls, but it is aware of what it means if it succeeds… or if it does not succeed. A country with more Christians in it means a diminished break down in the family, fewer abortions, and an understanding that 'thou shalt not steal' applies to governments as much as it does to individuals. Conversely, a country with fewer Christians in it means more people with worldviews similar to those that led the 20th century to be one of the bloodiest on record.
Our quest is to bring as many to faith in Christ as possible!  Much hangs in the balance:  their souls… but perhaps also even our country!
Athanatos Ministries has a unique approach to defending the Christian faith. You could almost call it 'guerilla apologetics.' The problem is simply this: you cannot argue someone out of a position they weren't argued into in the first place. So much of the disaffection with Christianity has nothing to do with facts or evidence. People absorbed it from the culture. So, if we can transform the culture–or at least ensure that our voice is robustly represented within it–we may, over time, reverse course.
Will you help us in our task? ACM is poised to do great things, but it needs the support of generous patrons like you. Check us out! And after you do, I hope you will consider making a donation of $100 or $1,000 or even $10,000 or more to help us in our task. You can use the donation options available at this link (or scroll down to use Paypal)
In gratitude for your generous support, for any donation above $150 we will send you a book of your choice from our catalog.
Questions? Email Dr. Anthony Horvath at director@athanatosministries.org | Connect with us on Facebook.
To read more about the association between 'religious nones' and secularists, and what this means for conservative politics, click here.
Thanks so much for your consideration. We hope you will become partners with us in our quest to win people for Christ.  God willing, we may also win back our country.
Help us win it back!
Quick Donate
Note: ACM is NOT tax exempt so that we can operate unmuzzled.

Make a One Time Payment through Paypal
---
Make a regular payment: