Defend the Faith by Defending the Family? Defend the Faith by Transforming the Culture?

Welcome to the home page of Athanatos Christian Ministries, an organization that has been defending the Christian faith since its founding by Executive Director, Dr. Anthony Horvath, in 2008.
(Did you know that ACM paid almost $1 to Facebook just to bring you here? Scroll down for more info!)
Take a hard look at this chart: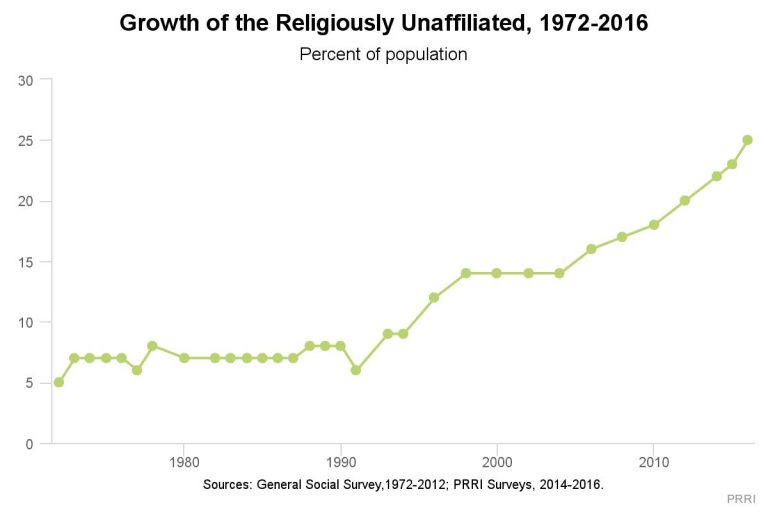 The chart shows a staggering and sustained increase in the percentage of Americans claiming they no longer have a religious affiliation. Almost 30,000,000 new non-Christians in just thirty years! What is going on? What happened around 1992 to so dramatically cause the number of non-Christians to skyrocket? Even more troubling, why is it the case that so many of these non-Christians started out as Christians?
Dr. Anthony Horvath has been raising the alarm for a full decade. His research and experiences have led him to direct the ministries of ACM to focus on the areas that are fueling the decline of the church in America. For example, aware that so many people absorb their skepticism from the culture (rather than by argument), ACM engages the culture through annual writing contests and a Christian arts and apologetics festival. To address the fact that many atheists started out as Christians, ACM aims to equip churches with the facts of the faith.
Perhaps most important of all, with research showing that healthy, intact families are God's plan for transmitting the faith to the next generation, Horvath calls attention to the connection between the breakdown of the family and the rise in disbelief.
Will you help us in our task? ACM is poised to do great things, but it needs the support of generous patrons like you. Check us out! And after you do, I hope you will consider making a donation of $100 or $1,000 or even $10,000 or more to help us in our task. You can use the donation options available at this link (or scroll down to use Paypal)
In gratitude for your generous support, for any donation above $150 we will send you a book of your choice from our catalog.
Questions? Email Dr. Anthony Horvath at director@athanatosministries.org | Connect with us on Facebook.
Thanks so much for your consideration. We hope you will become partners with us in our quest to win people for Christ!
Quick Donate
Long before Lois Lerner, Dr. Horvath recognized the dangers the IRS posed to bold presentation of the Gospel in society. In order to operate unmuzzled, ACM is NOT tax exempt. We hope this is not a deterrent to your financial support, but if it is, please contact Anthony to discuss other possible arrangements.

Make a One Time Payment through Paypal
---
Make a regular payment:
Even if you can't help ACM right now, would you be willing to donate $5 just to cover the our cost to Facebook for bringing you here? Use the donation buttons above!
And we would also be in your debt if you could do your Christmas shopping through our Amazon affiliate link:
(For those interested in both the eternal destiny of souls and more temporal affairs, look at this chart and ponder the implications of a society packed with the 'religiously unaffiliated.')